Case Study—Website Redesign and Content Development
National Institute of Environmental Health Sciences (NIEHS)
Challenge
The NIEHS Kids' Pages website is extremely popular, with 7 million visitors and 30 million page views a year. However, the design of the 1,200-page site was more than 15 years old and needed a contemporary look and feel to meet the expectations of more web-savvy children and maintain its credibility. The goal of the redesign was to provide a creatively engaging experience for visitors that encourages environmental awareness and interest in and curiosity about science.
Contribution
IVI informed the redesign process through a comparative analysis of best-in-class science and health websites aimed at kids, a web log analysis of 2 years of activity for the NIEHS Kids' website, as well as research into science education standards and usability of websites for children. Two in-person focus group sessions with communications and scientific staff at NIEHS identified the target audiences of the new site, topics and features for inclusion, challenges that might occur in the redesign process, and overall goals for the website.
A major reorganization made the whole site more user-friendly, both for children and adults (parents/teachers). A new, more colorful, and inviting overall design developed for the website by our team increased its appeal. All existing content was reviewed for suitability and functionality. Some content was removed, rewritten, or replaced. IVI developed new content to supplement the existing content. IVI tagged all content for section 508 compliance (accessible to people with disabilities). IVI also conducted remote usability testing with target audience members in order to ensure the site's success.
IVI's staff worked closely with the client's information technology group to migrate the existing and new content into a web content management system (Percussion CM System, aka Rhythmyx) to which the agency was migrating their main website.
Outcome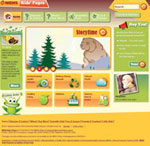 Through IVI's in-depth research, planning, and implementation, the NIEHS Kids' Pages website is kid-friendly and inviting for both kids and adults (parents and teachers). Modern design, colorful graphics, and musical elements highlight the environmental health content with over 1,000 pages to discover and explore.
Download PDF (352KB)